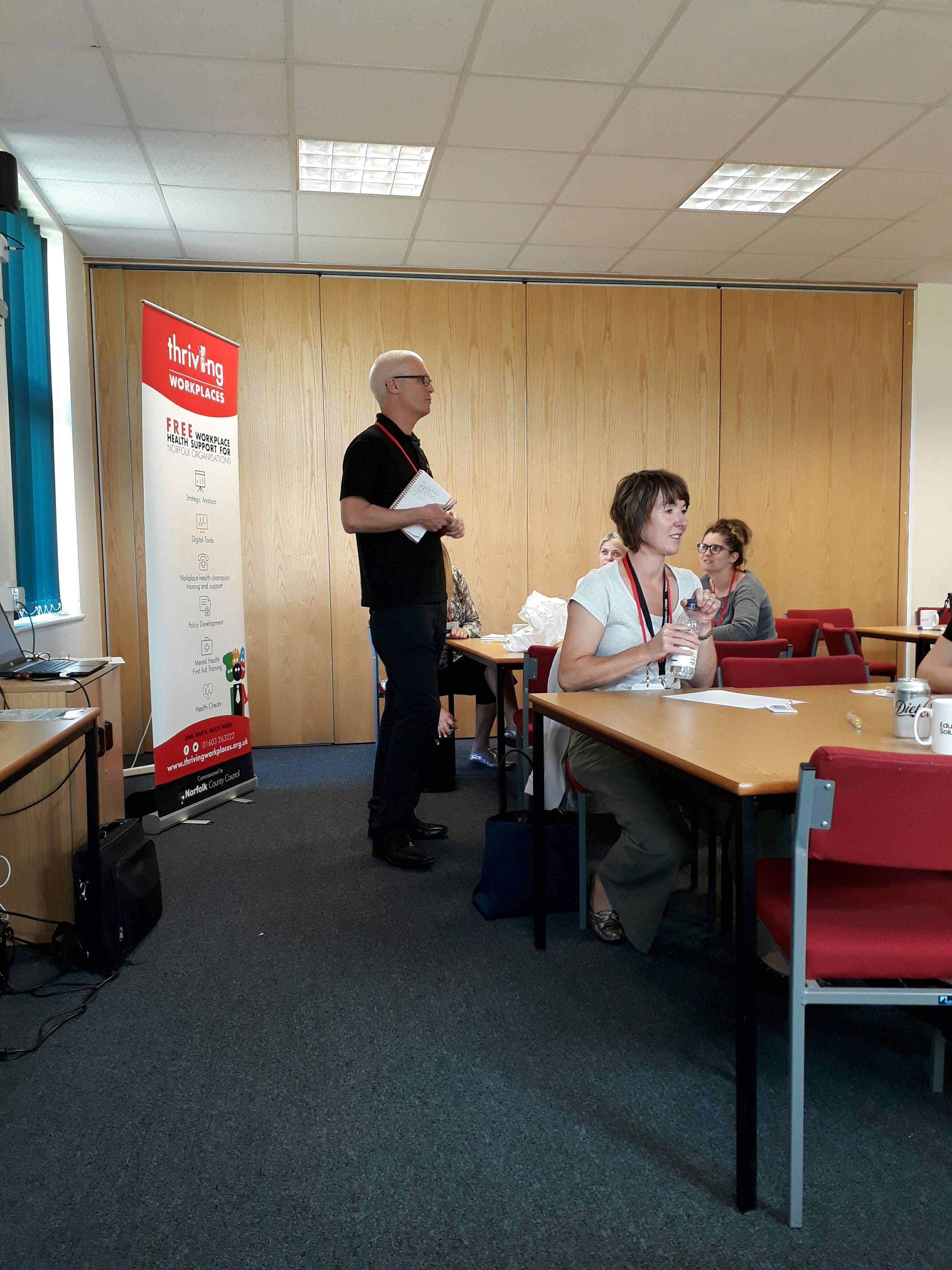 01 Aug

5 SIMPLE STEPS TO ENGAGEMENT

Do you get frustrated when people around you are less passionate about workplace health than you are? If so, you're in the right place!

Last week we held our first workshop for Health Champions which was a big success! Time and time again we hear how organisations struggle to engage their workforce to take part in health initiatives, which is why we focused the session on how to overcome possible barriers to engagement and get the workplace excited about improving their own health and wellbeing.

This is no easy feat; we all live increasingly busy lives and work is just one of the many to-do's on our daily to-do lists. But for most, work makes up a high proportion of our lives and that is exactly why we should start our mission to happiness and healthiness in the workplace! The world of work is changing and 'switching off' has become even more difficult thanks to technology which brings work in to our homes and personal lives. We are constantly under pressure to do more with less, which means there is a growing need to take care of our own health and wellbeing, as well as our employees and colleagues.
STEP 1 – THE IMPORTANCE OF SELF-REFLECTION
Self-reflection is an important tool to assess your own feelings and this information can be used to your advantage! We asked people during the workshop 'What makes you engage?' and we wanted to share with you some of the answers that were given: interesting topics, must be fun, have benefits, encourage understanding, something new, personal confidence, job fulfilment and positive feedback. Thinking about what matters to you can inspire ideas, and if you can put on a workplace health and wellbeing initiative which meets all of those points then your levels of engagement are bound to soar!
STEP 2 – KNOW YOUR WORKPLACE!
A one size fits all approach just won't cut it! This has been consistently illustrated to us whilst exploring organisations needs and priorities; they all differ and so rolling out a bunch of generic health initiatives won't produce improvements. Businesses employ people of varying ages, life stages, genders, cultures… meaning that they all have very different needs. Getting to know what matters to your colleagues/employees is key!
STEP 3 – QUALITY OVER QUANTITY
Quality is always better than quantity. It is essential that you offer the right initiatives at the right time to ensure engagement is high. Think about national awareness days and coordinate initiatives to coincide with these, check out the national awareness days calendar here!
STEP 4 – COMMUNICATION IS KEY!
Communication is another vital factor to increasing engagement, this was highlighted as a barrier during the workshop specifically for companies who employ shift workers, but it doesn't have to be! There are so many ways to overcome this issue; social media, using Buffer to schedule social media posts, using MailChimp to schedule and send group emails, using notice boards, sending newsletters, using your organisations Intranet pages as well as verbally communicating with people! Don't limit yourself to using one, use them all!
STEP 5 – MAKING EFFECTIVE CONTACTS
During the workshop we also provided Workplace Health Champions with the tools, skills and knowledge they need to make maximum impact in their workplace! An important part of this in terms of overcoming engagement issues was how to have effective contacts and conversations with colleagues which is why Thrive Tribes Lead Dietitian Karen led a session on Making Every Contact Count, and our service manager Mark spoke about behaviour change and reflective listening using the EGAN framework! This gave the attendees some valuable takeaway's from the morning, and ideas on how to get the conversation started in their workplace!
It was so great to see everyone networking with different organisations and sharing ideas, we're already looking forward to the next one!
If you have a passion for health and wellbeing and want to become a Workplace Health Champion and take part in our next Workshop, then get in touch to become one of our partner organisations!