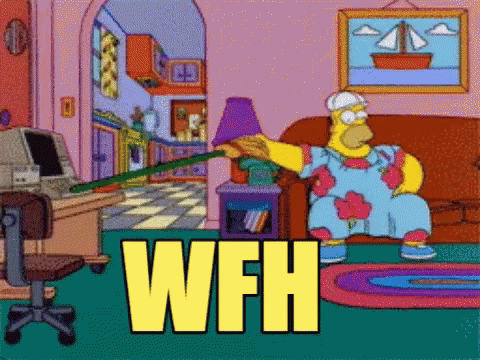 26 Apr

Is working from home for you?

Now that 90% of UK households have a broadband connection [1], and conference technology like appear.in and Skype are more reliable, working from home is easier than ever. With commute times longer in most areas of the county than a decade ago [2], surely the logical answer is to allow working from home should the job role allow for it? Unfortunately, 4 million UK workers answered that they would like to work from home for a portion of their week but were not currently given this option [3]. Whether your needs are driven by childcare, snow or a dodgy kitchen appliances, there's certainly a case for accommodating homeworking, read on to find out some benefits and some downsides.

How common is homeworking?

Homeworking refers to employees who spend all or part (even if irregular) of their working time within their home rather than at an external workplace. It also refers to people who travel for work and where their home counts as a base. The practice has increased over recent years, with 6.1% of the UK workforce participating in 2017 as compared with 5.1% in 2005 [4]. Around two thirds of homeworkers are self-employed or work within a family business, and the figures are expected to continue rising, especially in office-based roles. Of course, there are many job roles where home or remote working will never be possible or will be greatly impractical; it may be possible for employers to use flexible working or similar to accommodate the needs of those workers.

How does homeworking benefit the employee?

No matter how passionate someone is about their job, everyone has a life that the work must fit within. Recently, my fridge-freezer was acting up and I was given a time slot of between 8am and 6pm by the repair company. I'm lucky, my manager understands that getting this fixed was a priority in my life, and I worked from home for the day. The alternative would be taking a day of annual leave, something that I didn't need to do when I can write reports and update the company social media just as easily from my dining table as I can from my desk! Similarly, if I have a 10am meeting that I would have to drive past my house to get to, it makes much more sense for me to work from home before I head out and go into the office later.

Working from home offers me and many other UK workers the flexibility to manage our work and personal life, whether it's caring for children, or            receiving deliveries or meeting plumbers and electricians etc. It can also reduce travel costs, and can be safer, we all worked from home during the Beast from the East rather than make a risky journey to the office!

How does homeworking benefit the employer?

In man areas, office space is a hot commodity and parking is even more so! For rapidly expanding businesses, rather than frequently up-sizing to larger offices, allowing employees one day a week to work from home reduces required desk space by 20% each week day.

Most importantly, in a job market where vacancies are at a record high [5], employers need to be offering something more than a competitive salary to attract the best candidates. A positive and trusting workplace culture can be contributed towards by allowing homeworking.

Are there any downsides?

Yes! As wonderful as being able to wear joggers and a hoody all day is, there are definite benefits to getting into the office regularly. I have gone in when it was completely unnecessary, on days when I would be the only person there. However, the change in environment and clear separation from my personal life have been what I needed at that time to focus. Recent research shows that people who spend two or more days per week at home struggle to "switch off" and are more likely to respond to emails outside of working hours than their office working counterparts [6].

Of course, there's no real substitution for an in-person team meeting, I know from experience that video-conferencing can't always be relied upon! I also wouldn't like to work from home all or even most of the time, I and it's valuable to bounce ideas off my colleagues and we have a really supportive team and a wonderful working environment. However, I'm grateful that the option is there, and it's greatly contributed towards my positive opinion of my employer and the company culture and leadership.

What do you think?

What experiences have you had working from home, or allowing employees to? Has it benefitted you or have you perhaps been stung? Let us know!

Resources

ACAS Homeworking-a guide for employers and employees

Workwise National Work From Home Day 2019

Sources

[1] Office for National Statistice, "ONS.gov.uk," 7 August 2018. [Online]. Available: https://www.ons.gov.uk/peoplepopulationandcommunity/householdcharacteristics/homeinternetandsocialmediausage/bulletins/internetaccesshouseholdsandindividuals/2018. [Accessed 24 January 2019].
[2] Trades Union Congress, "Annual commuting time is up 18 hours compared to a decade ago, finds TUC," Trades Union Congress, 13 November 2018. [Online]. Available: https://www.tuc.org.uk/news/annual-commuting-time-18-hours-compared-decade-ago-finds-tuc. [Accessed 24 January 2019].
[3] Trades Union Congress, "Home-working up by a fifth over the last decade, TUC analysis reveals," 20 May 2016. [Online]. Available: https://www.tuc.org.uk/news/home-working-fifth-over-last-decade-tuc-analysis-reveals. [Accessed 24 January 2019].
[4] Trades Union Congress, "Growth in homeworking has stalled," Trades Union Congress, 18 May 2018. [Online]. Available: https://www.tuc.org.uk/news/growth-homeworking-has-stalled. [Accessed 24 January 2019].
[5] BBC, "UK employment total hits record high," BBC, 22 January 2019. [Online]. Available: https://www.bbc.co.uk/news/business-46958560. [Accessed 24 January 2019].
[6] R. Muller-Heyndyk, "Home workers struggling to switch off," HR Magazine, 19 January 2019. [Online]. Available: https://www.hrmagazine.co.uk/hr-most-influential/profile/home-workers-struggling-to-switch-off. [Accessed 24 January1 2019].

WANT SOME HELP?

Thriving Workplaces is assisting a wide range of organisations across Norfolk to improve the health of the working population. We offer bespoke solutions including policy guidance, training and networking events to share solutions, and best of all we are free to workplaces in Norfolk! To find out more about what we do, take a look at our brochure and get in contact, we'd love to meet and discuss how we can work together to help you create a Thriving Workplace.