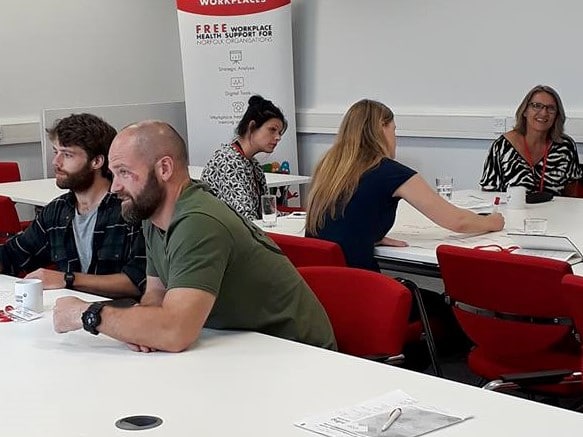 24 May

What are Health Champions?

I've you've been involved with or following our service for any length of time then you've probably heard us talking about Workplace Health Champions and how important they are for a sustained workplace health and wellbeing strategy. Keep on reading to find out more about what a Health Champion is, who can become one and how.

WHAT IS A CHAMPION?

A Workplace Health Champion is someone who uses their own experience along with training and support to positively impact health and wellbeing in the workplace. They are responsible for planning and delivering initiatives to their colleagues and directing a health and wellbeing plan in accordance with the needs of the workplace. In larger organisations, it can be helpful to have several champions who are responsible for different areas and who can work together on larger events.

WHO CAN BE A CHAMPION, AND HOW?

Anyone! If you, or someone you know is passionate about helping others and making your workplace a healthier place to be, then why not become a champion? You might already be performing a similar role but would like some support and guidance. To become a qualified champion, all you need to do is complete the RSPH level 2 award in Understanding Health Improvement, training is provided for FREE by Thriving Workplaces! It's 1 day of training, covering methods for promoting health, health inequalities and communication of health messages. After this the champion is ready to start making positive changes in their workplace.

Champions have regular meetings with a member of Thriving Workplaces to discuss ideas and help with any issues that they are facing. They will also have access to a catalogue of downloadable resources ranging from posters for national campaigns to stock policies. Most importantly, they are given priority on our networking and workshop events which cover methods for engaging colleagues, getting support from management and many other areas.

INTERESTED IN BECOMING A CHAMPION?

If your workplace is already engaged with Thriving Workplaces, find out from your manager or HR if they are looking for champions to put yourself forward. Perhaps your organisation hasn't contacted us yet, once you have high level backing we'd love to meet and discuss working together.

WANT SOME HELP?

Thriving Workplaces is assisting a wide range of organisations across Norfolk to improve the health of the working population. We offer bespoke solutions including policy guidance, training and networking events to share solutions, and best of all we are free to workplaces in Norfolk! To find out more about what we do, take a look at our brochure and get in contact, we'd love to meet and discuss how we can work together to help you create a Thriving Workplace.